To get things started, when thinking about painting the exterior of your house there is a simple rule to remember. The exterior color scheme of your house should consist of three colors: the dominant siding color, one for trimming and one for accents. Remember to keep this in mind when picking your colors, otherwise you could unknowingly decrease the curb value of your home.
Now, since you know the three-color scheme rule the next step is to determine whether you want a warm or cool exterior paint color. It is a good idea when making this decision to keep in mind the natural surroundings of your house, as well as the lot the house is on, and the overall feel you want to have.
If you are live in the woods and do not get a lot of sunlight, would you want to paint your house a dark color to blend in or a lighter shade to pop? If your house is surrounded by an intense number of trees, do you really think green as the dominant color choice would be best? Ultimately the decision is up to you, just keep in mind the environment in which you live.
When it comes to lot size pick a darker color will make your house to appear smaller, where in contrast a lighter exterior color will make the house appear larger. If you have a large house on a smaller lot you might want to consider painting it a darker shade. If the house is located on a large lot, painting in a lighter shade will make the house appear larger and appear to fill up more of the lot.
Another thing to take into consideration is the location of your house. Make sure whatever color scheme you do decide matches to a degree with your neighbors. By this I do not mean pick the same color so every house looks the same, but if you neighbor has a more neutral shade you may want to stay away from neon orange. Everyone wants their house to stand out, but take your location into consideration.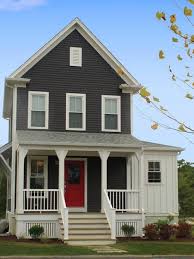 A color scheme that is currently trending is Stormy Gray/Paprika Red/Bright White. Hues of gray have always been popular but finding colors to make it pop is key. With Stormy Gray as your dominant color, paint window frames, porch fences, and your front door with Paprika Red to create a pop. Accent your window sashes with Bright White making your house a showstopper!
When it comes to painting the exterior of your house it is a big project to take on. It requires careful consideration and preparation to make sure everything goes smoothly and projects your house in the positive light you wish. Lighthouse Painting specializes in interior and exterior painting for residential and commercial properties. Whether you need a second opinion on color schemes, or for a professional to take on the entire project, Lighthouse Painting is here to help. Contact us today at 978-992-8558 for a free estimate and consultation that is convenient for you! Or click the button below to request an appointment!