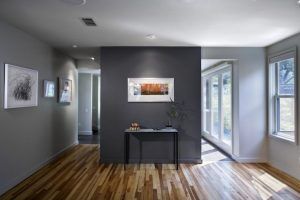 In the decorating and painting industry, it seems like accent walls are always gaining in popularity. An accent was will always be popular because of their effortless style and flexibility. There are no limits to the paint options for your accent wall, and people are even starting to consider other wall treatments like shiplap or wall paper. Your home is unique and should reflect your tastes, so an accent wall is a great way to jazz up an otherwise boring room in your house. However, there are some important rules that homeowners should take into consideration when creating an accent wall, and we've provided a quick but detailed rundown of those do's and don'ts.
DON'T be afraid of bold colors. As long as you have the right accents in the surrounding furniture and décor, and pop of color can really make your room stand out. So don't be afraid to slap on that coral or paprika colored paint.
DO be creative! Think outside the box when you're planning your new accent wall. You're not only limited to just wall paint. Think about other ways you can use the wall - maybe your accent wall would look great with stripes or the super hip chevron pattern. Metallics are also a trendy option to consider, but don't overdo it! It is your home, not a disco!
DON'T forget about other materials. Your accent wall doesn't have to be just paint! Have you given any thought to tile? A wall full of shelving and décor can also work as a great accent wall. And don't forget about the possibility of wallpaper. We recently wrote an article about how this retro wall treatment is coming back in style!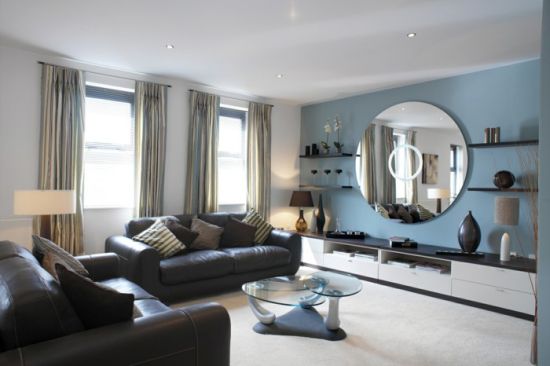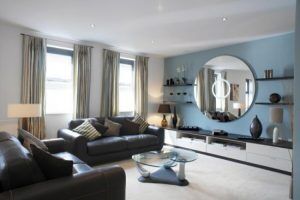 DO consider the other wall colors in the room before selecting your accent color. Most accent walls look best when they meet walls that feature a light, neutral paint color. Accent walls in an all-white room are both stunning and tricky, the contract of a brightly colored wall against stark white walls can often look overly modern and austere. So, it's best to surround a brightly colored accent wall with a neutral beige or grey throughout the rest of the room.
DO think about other ways to use an accent throughout the room. Have you thought about painting your ceiling? It may seem surprising, but a putting a pop of color on the ceiling is a very popular and chic design trend. Accent ceilings can be created with either soft colors or vivid colors - don't forget to add white crown molding if you don't have it already because this can separate the wall color from the ceiling in a clean and detailed way.
DO choose your wall wisely… Rooms that lack any architectural features can really benefit from an accent wall, but you might want to avoid one in a room that has a wall full of built in shelves - that could make the room look chaotic, because it already has an accent wall.
Whether you're painting or wallpapering, or you just want to talk to someone about your vision for redesigning any part of your home. Our knowledgeable and friendly staff wants to help you get the home of your dreams - and paint is a HUGE part of that. Call us today to schedule a consultation or to ask any questions you might have about the process of repainting.