Exterior paint is not on-size-fits all. There are a multitude of factors that go into selecting the right paint color for your home. It could be your home's location, the colors of other homes in your neighborhood, or simply just a color you're fond of.
However, there is another important factor to consider when choosing a color for the exterior of your home: Your homes architecture. Before you start selecting paint colors, it's important to do a little research about the style of your home. Learning  more about the colors traditionally used for your type of home will give you a great starting point for selecting your own colors.
To give you a hand, we've put together a list of some popular architectural styles used throughout North America!
VINYL SIDING HOME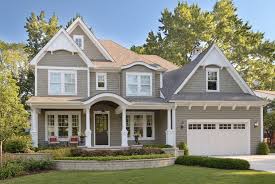 If your home has vinyl siding, a coat of exterior paint can really improve your siding's durability. For color, you'll want to choose something that will stand the test of time - like a neutral tone. For an overall color you might try a creamy white, or a buttery yellow tone. However, beige and gray are also immensely popular because they seamlessly match with their surroundings.
RANCH STYLE HOUSE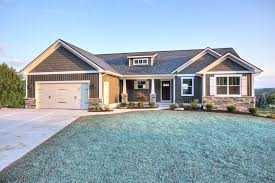 Perhaps the most common style of home in America, Ranch style homes are one story. However, they do come in a variety of styles. Named because they're the type of building you'd encounter on a ranch, it's best to stick with rich, earthy tones for their exterior. Brown or beige are great options. If you're looking for a little more diversity - you can always add accent colors like a bright red door or blue shutters.
BUNGALOW STYLE HOME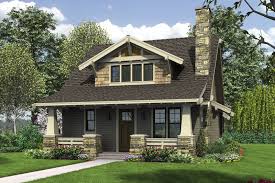 Bungalow style homes come from the Arts & Crafts Movement. Most of these homes feature an emphasis on natural building materials like stone, brick and wood, often mixing the materials in various interesting ways. When these elements are a part of the design of your home it's important to choose colors that balance the natural colors. Gray or taupe will do the trick for those with a classic style. But if you're trying to really make your home pop you might try a sage green, deep blue, or a bright and sunny yellow.
CAPE COD STYLE HOME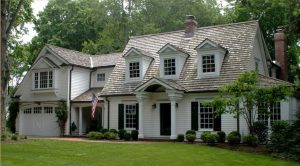 There are Cape Cod style homes all over the areas surrounding Boston, MA. These homes were greatly inspired by Britian's thatched-roof cottages. Its clear looking at these style homes, that there have been design updates to reflect the climate in the Northeastern United States. Homeowners with Cape Cod style houses usually stick to very traditional color palettes - sticking with crisp whites, hunter green accents, nice blues and deep greys. You'll see many of these homes with a very neutral overall tone with bright, exciting pops of color on the doors, trim and shutters.
VICTORIAN HOMES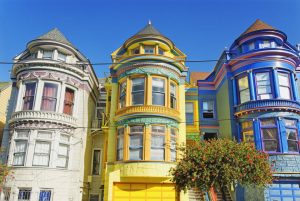 Victorian style homes are the way to go if you want to be able to paint your home various fun colors. With all of the small accents in Victorian architecture, you can easily select 3 or 4 different colors that will help you accent all of the unique and intricate details of your home. While many Victorian homeowners stick with neutral tones, they often liven it up with a bit of the unexpected. Consider a taupe with a lavender undertone or a blueish grey with white trim. However, it goes without saying that other homeowners go wild with the exterior of their Victorian house with colors like bright red, purple, or bright blue!
TUDOR STYLE HOMES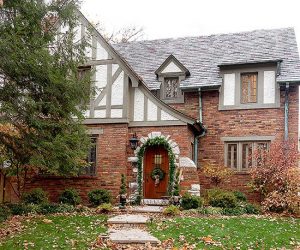 A Tudor style home is very classic - and usually their owners stick with a very traditional and neutral color palette. Try to think of a more classic style than a tudor home with white or taupe base coat and dark brown accents. However, recently we've seen some pretty modern trends when it comes to tudor style homes. Try keeping the natural base coat, but instead of accenting with brown or black - try a dark grey or even a dark blue trim. Tudor homes also look especially inviting with a pop of color on the fron door, so think of something extra bold like a deep red!
MID-CENTURY MODERN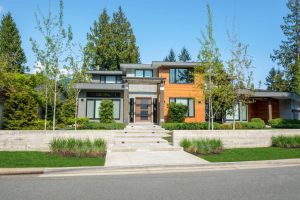 Mid-century modern homes are fantastic for someone who likes to blend natural and edgy design elements. These homes often feature a very minimalist silhouette, which leads to some really unique color options. Because aesthetic is so important when it comes to Mid-Century-Modern homes, its important to emphasize the materials that the home was made with. For these homes, its best to stick with a dark grey or beige exterior with pops of bold colors. But instead of the ever-popular red door, think about including bright greens, aqua blues or even orange!
No matter the style of your home, Light House Painting is here for all of your exterior painting needs. Our experienced staff will walk you through every part of the exterior painting process - from color selection, to preparation, to paint-job completion. We'll help you make your home the envy of your neighborhood! Contact us to schedule a free, no obligation painting consultation and see how we can get started painting your vision!