At Lighthouse Painting, it is our goal to deliver the most high-quality interior and exterior painting services, exterior carpentry repair, pressure washing, gutter cleaning, deck & porch staining. That's why, when Brandon of Beverly Massachusetts was looking for a contractor to revitalize the exterior paint on his home, he came straight to us!
We began the process by providing Brandon with a free quote, and an initial consultation at his home in Beverly, MA where we were able to answer any questions about the project. Even though we offer color consultation, Brandon knew exactly what color he wanted to choose for the exterior of his home. He chose a color that was similar to the one his home had originally been painted – but as you can see in our before photos, it was time for another paint job! So once the initial plan was created and all the prep work was complete, it was time to get the crew out to Brandon's Beverly, Massachusetts home and start work.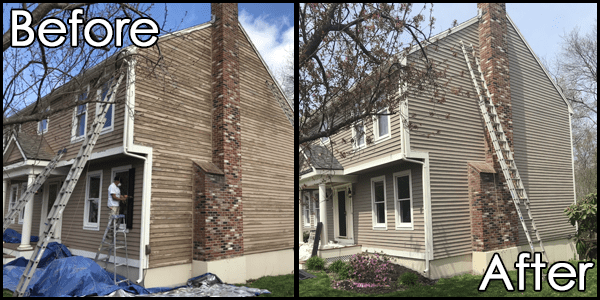 After the consultation, preparation and green-light from the client, our professional team of exterior painters were able to get this job completed over the course of just 1 week! Because we only use high-quality brand name products, we used High-end duration paint by Sherwin Williams for the best possible finish. This incredible exterior paint allows for more durability and a much thicker coat. We chose this particular product because of its protective qualities against cracking, peeling and blistering. When the project was complete, Brandon and his family were unbelievable happy about the outcome! They even sent a note in with the final payment thanking us for a great job!
If your home is in need of a fresh exterior paint job like Brandon, from Beverly Massachusetts – Lighthouse Painting is here to help! Our professional team has over 25 years of experience in exterior painting, interior painting, exterior carpentry repair, pressure washing, gutter cleaning and deck & porch staining. There's no other company that provides the highest level of communication, customer service, and incredible painting services. We have what it takes to make your home the most beautiful house on the block! Give us a call today at 978-992-8558.