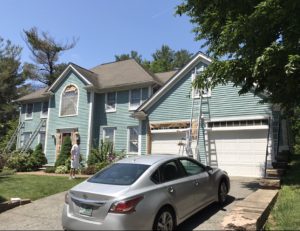 Is it time for you to refresh the exterior of your home with a new, updated coat of paint? That was definitely the case when homeowner Ernest approached us for a consultation regarding the exterior of his home in Lexington, Massachusetts. As you can see in the before photos of the home, the exterior paint wasn't in great shape. The color was outdated and really needed a modern, clean paintjob in order to really improve the home's overall curb appeal. After his initial consultation, Ernest knew that he could trust the skilled painting team at Lighthouse Painting to bring a beautiful new look to his home's exterior.
Ernest already knew which color he wanted for the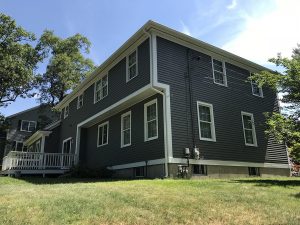 exterior of his house in Lexington, MA, and because we only use the highest quality products and paints - we selected Sherwin Williams duration paint in Amherst Gray. Once the color was selected and materials were gathered, it was time to start on the prep work. Our team pressure washed Ernest's house and deck, meticulously scrapped the excess and peeling paint from the home, and applied a full coat of primer in preparation for the finishing coat of Sherwin Williams duration exterior paint.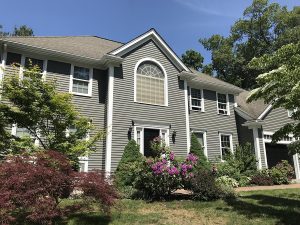 The project took about a week from start to finish, and the client was incredibly happy with the outcome! He took photos of his home in Lexington, Massachusetts and sent them to our project manager as soon as the work was done to thank us for the fantastic work. As always, we provided excellent customer service and communication from the very beginning until the project was completed. We were extremely excited to turn Ernest's vision into a reality and enjoyed working with Ernest from Lexington!
Lighthouse Painting provides the most comprehensive and detailed service when it comes to exterior paint, exterior carpentry repair, pressure washing and more in the Boston, Massachusetts area. Whether you're getting ready to host an event at your home, or you just need to refresh your homes exterior paint job, Lighthouse Painting's skilled team of exterior painters and carpenters are ready to help make your vision come to life! Schedule a free, no obligation consultation by clicking the button below or contact us to have your questions answered!
Read Ernest's review from Home Advisor -
From start to finish these guys were the real deal. Matt and Chris and the great team headed by Marcio were highly efficient, professional, friendly and responsive. The before and after results of the exterior of my home were nothing short of amazing. The project was completed within less than a week as promised and importantly at a great price. These guys have my unconditional respect for producing quality work and without doubt have my highest recommendation.