Expecting parents eventually come up with a lot of different questions while setting up a nursery: Is the bed too small? Will there be enough light? What color should I paint the walls with? Today we will answer the last question on this list. There is a lot of examples showing that colors affect adults, so why the babies should feel any different about them? Here is a quick explanation of the color theory and how it can help your choose the right paint color for your baby's nursery.
Pink and lavender
Interior painters usually call pink the most common color for baby girls. It is really soothing for babies. Such warm color makes the room even more cozy and pretty. If you want a similar effect for your baby, but with a different color, lavender is the answer. It's soothing tones create an extra calm atmosphere around your baby.
Blue and sky blue
Our house painters consider blue as the classic baby boy color. It also has some soothing vibes, but pay close attention to its shade. Grey-blues can lead more to the feeling of sadness. Try avoiding navy or darker shades. Use warm blue colors for a more calming nursery experience.
Green and yellow
Try using nature colors for your baby to see while growing up. Green and yellow is perfect for learning environment. Green is more calming, when yellow brightens up the room and brings certain warmth. Pay attention to yellow paint and try to use its softer shades.
Brown and grey
Another great neutral color for the nursery is brown. It creates a very cozy space. Our painting service professionals would advise to use very light or beige shades of brows. That way your baby will fill calmer and more comfortable. From beige you can easily go to light grey, a color that promotes thought and emotion.
Purple
Use pastel purples, like lavenders and lilacs. It will be more calming and serene. Many residential painters consider purple to be royal color. Be sure to mix purple with same natural colors in interior, such as yellow, green and blue.
White
White color is always a perfect choice. Pure and simple, calming and free. White will give your baby a big space for though and creativeness.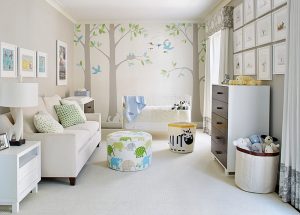 We understand that designing a room for your baby is very important. Lighthouse Painting would be more that happy to help you in this interesting and complicated process. Our professional interior painters can help you create the perfect room where your baby will feel calm, safe and secure. Schedule appointment to get your free estimate. Let's create beautiful things together! Stand above the rest.