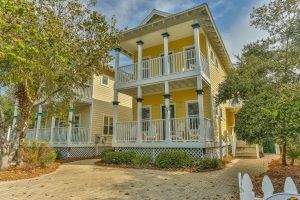 If you are looking to brighten up your home, you are probably thinking about the color white. But wait! There's so much more to painting your house. Do you want your home's exterior color evoke summer and sunshine? Consider such a beautiful color as yellow. Our exterior and interior painters love yellow. There is so much you can do with it.
Our house painters would typically advise us to use yellow on traditional-style homes. While it can also work on modern-style homes, it's best to use it on homes without too many contrasting materials. When you include different components like block, stone, or metal, they can compete too much with the color and might clash.
While it is hard to see at first, yellow actually is a very flexible color. Regardless of whether you're thinking about sprinkling everything over the outside of your home, or simply utilizing it to liven up an impartial look, it's a color that gives you a huge amount of choices with regards to shading palettes.
For homes with more basic lines and moderate details, delicate yellow works flawlessly when combined with fresh, white accents. With this style of home, it's best to keep it straightforward and let the fundamental color be the core interest.
An extremely superb color palette for the wooded and naturesk surroundings is a delicate yellow home set against a rich green scene and splendid, painterly sky. Actually, warm sunlight advances the yellow, turning the colors almost gold.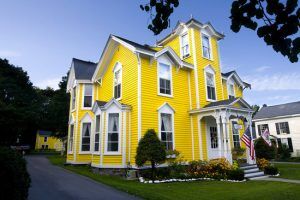 Yellow colors can be used to separate and scale down the general size of a house. The blend of a delicate yellow body, white trim and dark accents shields this vast home from being overpowering.
What's more, yellow, particularly in its more electric tone, can be a lot of fun. While this may not be the shade of decision for an extremely huge house, it can certainly work well on a smaller, more two-dimensional structure.
So in the correct setting and with the right material decisions, for example, wood and stucco with large expanses of glass, a delicate, more earth-tone yellow can be very bold-looking and super fresh.
Our residential painters also use bright yellow shades inside homes. Kitchens and living rooms are perfect choices to explore different shades of yellow. They can deal with the more splendid tones like mustard, banana, lemon, and golden yellow. Remember that more splendid shades can be a little overwhelming in some spaces, so you might need to use it on an accent wall or on furniture.
After all, the main thing we want to tall you about yellow is this: do not be afraid to use it, because It can brighten up your life in so many ways. Be bold and creative and you will love your new home.
Yellow, grey or blue – we understand that in the end everything's up to you. Lighthouse Painting is here to guide you through the decision-making process. Our professional exterior painters can fit any house into its surroundings and make it look unique and beautiful. Click here to book your appointment today to discuss the options for your perfect house.