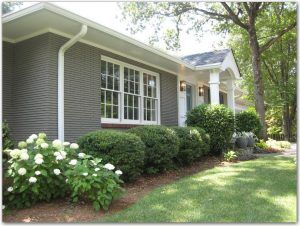 A brick exterior instantly provides a home with a classic, comfortable look. On the other hand, brick houses are not exactly unique! So if you're tired of your home's exterior you're not alone! We've been asked plenty of times by our clients with brick homes if painting over them is possible. The short answer is: absolutely! More and more people in the Boston, Massachusetts area are opting to paint their brick exteriors, giving them a new life and a different style. But, before you paint your brick house it's important to take a few things into consideration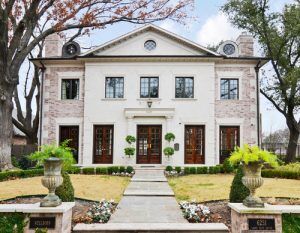 .
It's possible to alter the look and feel of a brick house in relatively little time, making it feel like a brand new home! You can paint the exterior white for a crisp, clean look or if you're looking for something more dramatic and trendy, try a nice grey color. Many people also decide to go with beige and that look can be classic and sophisticated.
When looking for inspirtation, you might take a look at social media sites like Houzz or Pinterest - or you can consult your painting specialist, Lighthouse Painting. One of our favorite parts of the job is helping our clients pick the perfect color for their home's exterior! If you do decide to look for photo inspiration, keep in mind that if your home is a different style than the one pictured - it will greatly affect the final outcome.
Another important thing to consider is the irreversibility of painting a brick exterior. Once you paint your house, there really isn't any going back. It will be difficult (if not impossible) for you to revert back if you find yourself missing your classic brick home. This isn't necessarily a bad thing, but it's something to put some thought into.
Additionally, painted bricks ten to look dirty more quickly than unpainted bricks, so you'll probably need to clean and pressure wash the surface more often. Typically, you'll also need to repaint your bricks every five to seven years in order to prevent the paint from cracking, peeling or chipping. This will also keep moisture from getting into your home.
CAN I PAINT MY BRICK HOUSE MYSELF?
That's a really great question! While it is definitely possible for an experienced DIY painter to pain his or her own home - we still recommend that you hire a professional painting contractor for such a project. After all, it is the entire exterior surface of your house and, as previously mentioned, it is rather irreversible.
If you're looking to paint the brick exterior of your home - contact Lighthouse Painting today! Our friendly, professional staff is skilled and experienced when it comes to revamping your home's exterior. We also offer interior painting, and exterior carpentry repair! You deserve the most beautiful home on the block!