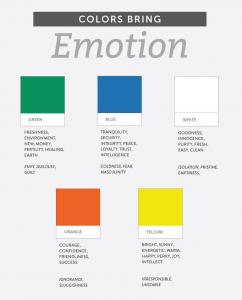 Whether you're planning on redecorating your home, or you've just moved into a new house - the color of your walls is often more than a matter of taste. Studies (both new and old) provide scientific evidence that suggests the use of certain colors can strongly affect a person's attitude or mood.
We put together a list of some of the best colors to choose when you're redecorating the inside of your home! Which shades make you relaxed? Energized? Productive? Keep reading to learn which colors work best in each room and the reasoning behind each selection.
Green: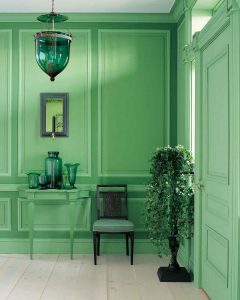 Green brings the mind all things natural. When you see the color green you automatically think about plants and nature. The color green also represents growth and life. At Lighthouse Painting, we suggest the color green in rooms of your home where you'd like a quiet, more focused atmosphere. Some suggestions: Master Bedroom, Home Office, or even a Library.
The color green is also green for those who live in urban or metropolitan areas like Boston. City living can often leave you craving a sense of nature among a bustling city backdrop and green walls can give you that sense.
Blue: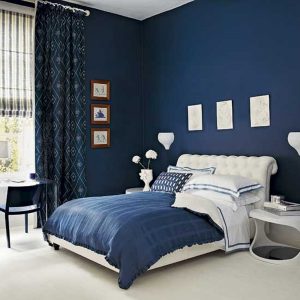 Blue has often been considered a tranquil and calming color and psychologists suggest that is definitely the case. Psychologically, Deep Blue is referred to as the optimum color for slowing the body down and allowing the mind to relax and recuperate.
Because blue can make you feel calm, centered, and content - it is usually the best color for your bedroom as well as the home office. Known for evoking feelings of quiet and solitude a blue bedrooms is sure to give you that "me time" you're craving in order to relax your mind and get some rest.
White: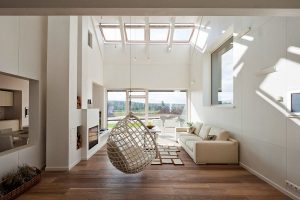 The color white brings evokes thoughts of cleanliness and purity and can often be used to open up smaller spaces because of it's ability to reflect light more than any other color.
People often think that white is a boring, lifeless color. But if you do it right, white walls can be beautiful and eye-catching. White is adored for creating the illusion of space, light and height. However, if a bright, shiny white feels too sterile for you - try using a pale gray or a light cream to brighten up the room and make it look much bigger.
Orange: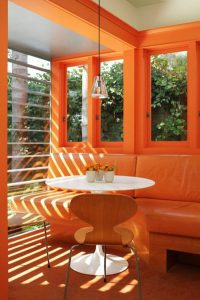 Orange is an exciting color! Known for its energy, warmth and incredible ability to stimulate appetites orange is often used in fast food restaurants. Orange also promotes socialness. Experts suggest that it stimulates conversation and communication. The color reflects youth, energy and engagement so it's a fantastic color for a home gym, family room, kitchen, or any other space where you'll be entertaining guests. Plus, you'll get points for a bold and exciting color choice! Paired with other neutrals - orange can be and absolute dream on the walls of your home.
Yellow: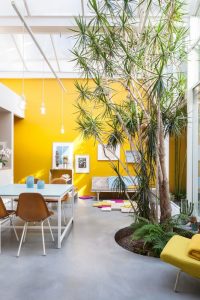 There is no color in the world which evokes happiness quite like the color yellow. Its associated with the sun, optimism and summer weather. However, yellow can also be easily overwhelming - after all, you don't want to have to wear sunglasses in your own home!
This happy and uplifting color is great in rooms that are dark and need an addition of light. Yellow walls would be an amazing addition to small, dark kitchens, entryways, and living rooms. Just like orange, pairing yellow with natural colors is bound to make your home feel happy and cheery!
Whether you're looking to incorporate fun, energizing colors into the entertainment spaces of your home, or you need to promote calming relaxation in your bedroom, library or home office… Lighthouse Painting will help you pick the right shade, every time. Our skilled team of interior and exterior painters will make your vision come to life with detail orients, professional services. Book your free, no obligation consultation online NOW to see how we can transform your home.