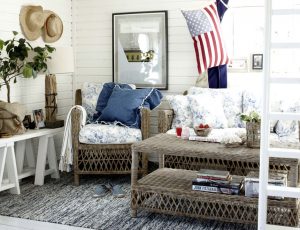 The coastal style is very popular in Boston and the surrounding areas - but when decorating for a coastal feel, a home can often look too "beachy". If you live in the Boston, MA area, or anywhere in New England for that matter - "beachy" décor doesn't really make much sense.
Sure, there are gorgeous northeastern coasts in the area but in order to tap into the ever-popular northern coastal design and décor, you should stay away from the aesthetic of beachy Florida vacation rentals. We put together a guide of some popular and helpful tips for painting and decorating your home in a beautiful, northeastern coastal design.
So, what are the key elements of a coastal look?
Lighthouse painting suggests you include neutral paint and furnishing colors - especially those that have a grey base. Neutral bases are beautiful, practical and have more longevity than darker or brighter colors. Greys are very fashionable at this time for both interior and exterior paint colors. But keep in mind! While white is a beautiful, clean color for your walls, "neutral" doesn't always mean white. Benjamin Moore's OC colors feature a full line of neutrals with gray undertones.
In order to get that comfortable, coastal lodge feel,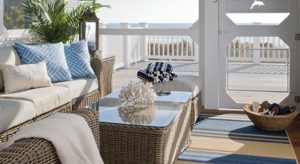 it's also important to include texture. But there are more ways to incorporate texture than jute or rope rugs. You could try a mixture of materials like seagrass, bamboo, wicker, rattan and other natural, woven objects. Another great way to bring in some texture is with wallpaper! We wrote extensively about wallpaper in a recent blog post, and it is a retro trend that continues to be popular in this day and age.
Because the coast is such a beautiful, natural element, you might consider bringing nature into your overall design. There are tons of ways to do this! You could pull your color pallete from inspiration like jetty rocks, seashells or sea creatures. You could also include coastal-inspired textiles and artwork to liven up your walls.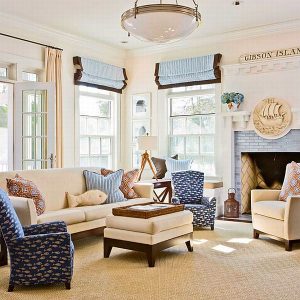 You don't have to incorporate all of our tips in order to achieve the perfect New England Coastal look. It could be as simple as painting your walls in a neutral color, adding interesting architectural detail like crown molding, paneling, or wooden beams. Then, bring in a pop of color and add patterns or texture to really bring the vision to life!
The first step to implementing a coastal design is you wall treatment - and Lighthouse Painting is here to help you every step of the way. We provide premium exterior and interior painting and wall treatment services, exterior carpentry repair and much more to clients in the Boston, Massachusetts area. You can request a free, no obligation consultation right here on our website! Contact us today to find out how we can paint your vision!